Story of Epic Tune "Zombie"
---
The fury stirred up among the Nigerian police and military by Fela's furiously confrontational albums Alagbon Close in 1974, and the beatings and harassments Fela & Africa 70 suffered as a consequence, were as nothing compared to the reprisals following a later 1976 album, Zombie.
Within months of its release, a large-scale army attack left Fela's Kalakuta Republic compound burnt to the ground, and many of its occupants, including Fela, assaulted and seriously injured. The sacking of Kalakuta was not, of course, brought about only by Zombie, but in the tension then existing between Fela and the military, it raised the temperature to boiling point.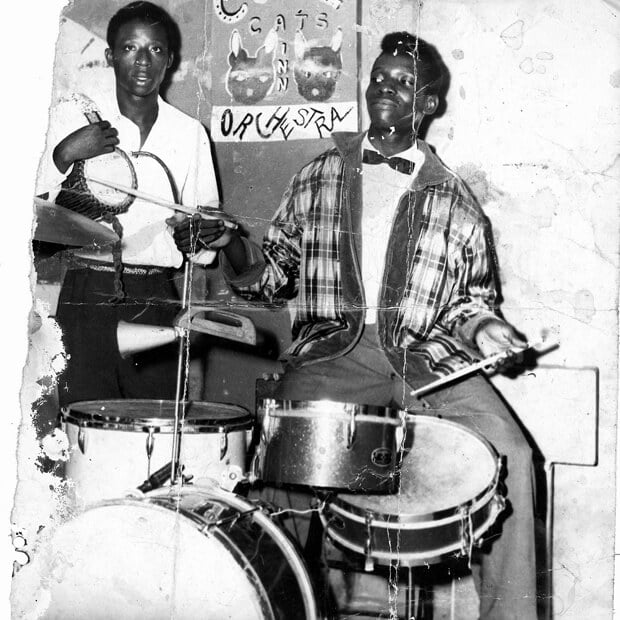 On the Zombie itself, over an urgent, quick-march accompaniment from Africa 70, Fela and the backup singers ridicule the mindset of men in uniform. "Attention! Quick march! Slow march! Salute!" signs Fela, "Fall in! Fall out! Fall down! Go and Kill! Go and die! Go and quench!" Each phrase is followed by the women signers taunting response, "Zombie!".
Fela contiunes: "No brains, no job, no sense, joro jara jo (meaning: no brains, no job, no sense, left right left; tell him to go kill left right left; tell him to go die left right left).
For the army, Fela's lyrics were the final insult, direct attack on it's pride and prestge, and probably more wounding for the fact that it was being made to look foolish, in part, by women. Worse still, Zombie was a hit across Africa, adding an international dimension to the insult. The army's response was terrible.
On the18 February, 1977, around 1,000 soldiers, most of them armed, swooped on Fela's Kalakuta Republic compund. They cordoned off the surrounding area, broke down the wire fence around the community's buildings, and battered their way into the central structure. Occupants were stripped and barbarously abused; particularly unfortunate women were raped (one also had her nipples crushed with stones).
Fela was badly beaten, sustaining a fractured skull and several broken bones. His mother, then aged 77, was thrown out of a window, fracturing a leg and suffering deep trauma. The army then set fire to the compound and prevented the fire brigade reaching the area.
The ensuing blaze gutted premises, destroying six Africa 70 vehicles, all Fela's master tapes and band equipment, a four-track recording studio, all the community members belongings and, for good measure, the free medical clinic run by Fela's brother, Dr. Beko Ransome Kuti (who was also severely beaten in the attack).
The first journalists to arrive on the scene were assaulted by soldiers. Inquistive passers-by were similarly set upon. The army didn't wanted any witnesses. They were unsuccesful at least in that; photographs of the fire and its immediate aftermath appeared in the Nigerian press within days.
Although Fela won the war of words which followed, he sensibly decided to leave Nigeria for a while, and in October relocated temporarily to nearby Ghana, a country he knew well and where he had performed regularly with Koata Lobitos in the 1960s and Africa 70 in the 1970s.
But Fela's political stance didn't endear itself to the Ghanaian authorities either – particularly when protesting Ghanaian students starting shouting "zombie!" at police and soldiers in the streets. After a few turbulent months, Fela was sent back to Nigeria.
Story by Chris May
Many tunes of Fela Kuti and Tony Allen are represented in
 new book of Anil Sahinoz 'AFROBEAT DRUMMING'.
This book is basically about decoding and notating the grooves of master drummer Tony Allen.